Home

/

CS FOR DOORS BARN DOOR TRACK
CS FOR DOORS BARN DOOR TRACK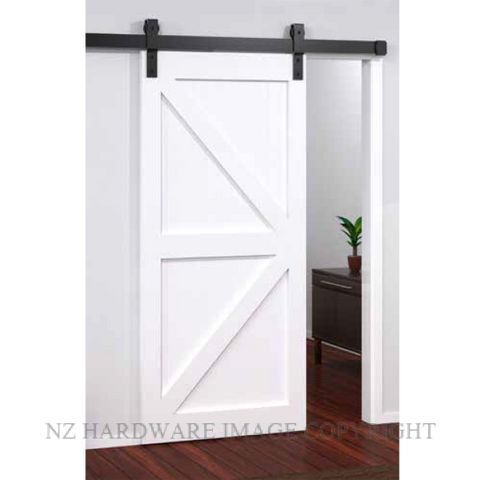 CS FOR DOORS BARN DOOR TRACK (TRACK & HANGER KITSETS)
CS BarnDoorTrack™ is a traditionally styled sliding door track system suitable for internal applications where there is enough strength in the wall to side mount a track above an opening.
The track is pre-finished black anodised and supplied with fixing bracket, stops, door hangers and T-Guide.
A Soft Close Kit (CLTSBS100) is an optional extra suitable for doors up to 100kg
The Standard Kitsets come with components for one door leaf. For add additional door leaves a CLTSB010 Hanger pack would be required.
FOR RELATED PRODUCTS REFER BELOW
INCLUDED IN TRACK & HANGER PACK

Track 1
Fixing Bracket (Narrow or Wide) 1
Hanger Brackets 2
End Stops 2
Door Bolts 4
T Guide Pack 1
Instructions
MAX PANEL HEIGHT
2400mm
MAX WEIGHT PER TRACK
300kg
DOOR PANEL THICKNESS
32mm to 50mm
ITEM

TRACK LENGTH

TRACK BRACKET

OVERALL THICKNESS (WALL TO OUTSIDE OF DOOR LEAF)

CLBDKIT1830N
1830mm
NARROW
TRACK KIT OVERALL THICKNESS 40mm - 61mm
CLBDKIT2135N
2135mm
NARROW
TRACK KIT OVERALL THICKNESS 40mm - 61mm
CLBDKIT2440N
2440mm
NARROW
TRACK KIT OVERALL THICKNESS 40mm - 61mm
CLBDKIT2745N
2745mm
NARROW
TRACK KIT OVERALL THICKNESS 40mm - 61mm
CLBDKIT3050N
3050mm
NARROW
TRACK KIT OVERALL THIC KNESS 40mm - 61mm
CLBDKIT3660N
3660mm
NARROW
TRACK KIT OVERALL THICKNESS 40mm - 61mm
CLBDKIT1830W
1830mm
WIDE
TRACK KIT OVERALL THICKNESS 62mm - 80mm
CLBDKIT2135W
2135mm
WIDE
TRACK KIT OVERALL THICKNESS 62mm - 80mm
CLBDKIT2440W
2440mm
WIDE
TRACK KIT OVERALL THICKNESS 62mm - 80mm
CLBDKIT2745W
2745mm
WIDE
TRACK KIT OVERALL THICKNESS 62mm - 80mm
CCLBDKIT3050W
3050mm
WIDE
TRACK KIT OVERALL THICKNESS 62mm - 80mm
CLBDKIT3660W
3660mm
WIDE
TRACK KIT OVERALL THICKNESS 62mm - 80mm
CLTSBS010
HANGER PACK ONE PER DOOR LEAF REQUIRED
HANGER PACK 1 PER DOOR LEAF
CLTSBS100
SOFT CLOSE KIT
SUITABLE FOR DOORS UP TO 100KG
Code
Supplier Part Number
Image
Product Name
Unit
Application
Finish
Door Type
Overall Length
Door Thickness
Price
Quantity
CLBDTKIT1830N
BDTKIT1830N
CS FOR DOORS BDTKIT1830N BARN DOOR TRACK PACK (NARROW) 1830MM

Unit:

Set

Application:

Face Fix Track

Finish:

Black

Door Type:

Timber Interior

Overall Length:

Track Length 1830mm

Door Thickness:

32mm-50mm

Set
Face Fix Track
Black
Timber Interior
Track Length 1830mm
32mm-50mm

$628.25 (exc GST)

CLBDTKIT2135N
BDTKIT2135N
CS FOR DOORS BDTKIT2135N BARN DOOR TRACK PACK (NARROW) 2135MM

Unit:

Set

Application:

Face Fix Track

Finish:

Black

Door Type:

Timber Interior

Overall Length:

Track Length 2135mm

Door Thickness:

32mm-50mm

Set
Face Fix Track
Black
Timber Interior
Track Length 2135mm
32mm-50mm

$642.25 (exc GST)

CLBDTKIT2440N
BDTKIT2440N
CS FOR DOORS BDTKIT2440N BARN DOOR TRACK PACK (NARROW) 2440MM

Unit:

Set

Application:

Face Fix Track

Finish:

Black

Door Type:

Timber Interior

Overall Length:

Track Length 2440mm

Door Thickness:

32mm-50mm

Set
Face Fix Track
Black
Timber Interior
Track Length 2440mm
32mm-50mm

$698.25 (exc GST)

CLBDTKIT2745N
BDTKIT2745N
CS FOR DOORS BDTKIT2745N BARN DOOR TRACK PACK (NARROW) 2745MM

Unit:

Set

Application:

Face Fix Track

Finish:

Black

Door Type:

Timber Interior

Overall Length:

Track Length 2745mm

Door Thickness:

32mm-50mm

Set
Face Fix Track
Black
Timber Interior
Track Length 2745mm
32mm-50mm

$761.25 (exc GST)

CLBDTKIT3050N
BDTKIT3050N
CS FOR DOORS BDTKIT3050N BARN DOOR TRACK PACK (NARROW) 3050MM

Unit:

Set

Application:

Face Fix Track

Finish:

Black

Door Type:

Timber Interior

Overall Length:

Track Length 3050mm

Door Thickness:

32mm-50mm

Set
Face Fix Track
Black
Timber Interior
Track Length 3050mm
32mm-50mm

$768.25 (exc GST)

CLBDTKIT3660N
BDTKIT3660N
CS FOR DOORS BDTKIT3660N BARN DOOR TRACK PACK (NARROW) 3660MM

Unit:

Set

Application:

Face Fix Track

Finish:

Black

Door Type:

Timber Interior

Overall Length:

Track Length 3660mm

Door Thickness:

32mm-50mm

Set
Face Fix Track
Black
Timber Interior
Track Length 3660mm
32mm-50mm

$840.00 (exc GST)

CLBDTKIT1830W
BDTKIT1830W
CS FOR DOORS BDTKIT1830W BARN DOOR TRACK PACK (WIDE) 1830MM

Unit:

Set

Application:

Face Fix Track

Finish:

Black

Door Type:

Timber Interior

Overall Length:

Track Length 1830mm

Door Thickness:

32mm-50mm

Set
Face Fix Track
Black
Timber Interior
Track Length 1830mm
32mm-50mm

$642.25 (exc GST)

CLBDTKIT2135W
BDTKIT2135W
CS FOR DOORS BDTKIT2135W BARN DOOR TRACK PACK (WIDE) 2135MM

Unit:

Set

Application:

Face Fix Track

Finish:

Black

Door Type:

Timber Interior

Overall Length:

Track Length 2135mm

Door Thickness:

32mm-50mm

Set
Face Fix Track
Black
Timber Interior
Track Length 2135mm
32mm-50mm

$656.25 (exc GST)

CLBDTKIT2440W
BDTKIT2440W
CS FOR DOORS BDTKIT2440W BARN DOOR TRACK PACK (WIDE) 2440MM

Unit:

Set

Application:

Face Fix Track

Finish:

Black

Door Type:

Timber Interior

Overall Length:

Track Length 2440mm

Door Thickness:

32mm-50mm

Set
Face Fix Track
Black
Timber Interior
Track Length 2440mm
32mm-50mm

$719.25 (exc GST)

CLBDTKIT2745W
BDTKIT2745W
CS FOR DOORS BDTKIT2745W BARN DOOR TRACK PACK (WIDE) 2745MM

Unit:

Set

Application:

Face Fix Track

Finish:

Black

Door Type:

Timber Interior

Overall Length:

Track Length 2745mm

Door Thickness:

32mm-50mm

Set
Face Fix Track
Black
Timber Interior
Track Length 2745mm
32mm-50mm

$782.25 (exc GST)

CLBDTKIT3050W
BDTKIT3050W
CS FOR DOORS BDTKIT3050W BARN DOOR TRACK PACK (WIDE) 3050MM

Unit:

Set

Application:

Face Fix Track

Finish:

Black

Door Type:

Timber Interior

Overall Length:

Track Length 3050mm

Door Thickness:

32mm-50mm

Set
Face Fix Track
Black
Timber Interior
Track Length 3050mm
32mm-50mm

$796.25 (exc GST)

CLBDTKIT3660W
BDTKIT3660W
CS FOR DOORS BDTKIT3660W BARN DOOR TRACK PACK (WIDE) 3660MM

Unit:

Set

Application:

Face Fix Track

Finish:

Black

Door Type:

Timber Interior

Overall Length:

Track Length 3660mm

Door Thickness:

32mm-50mm

Set
Face Fix Track
Black
Timber Interior
Track Length 3660mm
32mm-50mm

$868.00 (exc GST)

CLTSBS010
TSBS010
CLTSBS010 BARN DOOR TRACK HANGER PACK

Unit:

Kitset

Application:

Face Fix Track

Finish:

Black

Door Type:

Timber Interior

Overall Length:

-

Door Thickness:

32mm-50mm

Kitset
Face Fix Track
Black
Timber Interior
-
32mm-50mm

$334.67 (exc GST)

CLTSBS100
TSBS100
TCBS100 BARN DOOR TRACK SOFT STOP KITSET

Unit:

Kitset

Application:

Face Fix Track

Finish:

Black

Door Type:

Timber Interior

Overall Length:

-

Door Thickness:

32mm-50mm

Kitset
Face Fix Track
Black
Timber Interior
-
32mm-50mm

$258.97 (exc GST)