Home

/

TRADCO 11234 SIENA OVAL PLATE ANTIQUE COPPER
TRADCO 11234 SIENA OVAL PLATE ANTIQUE COPPER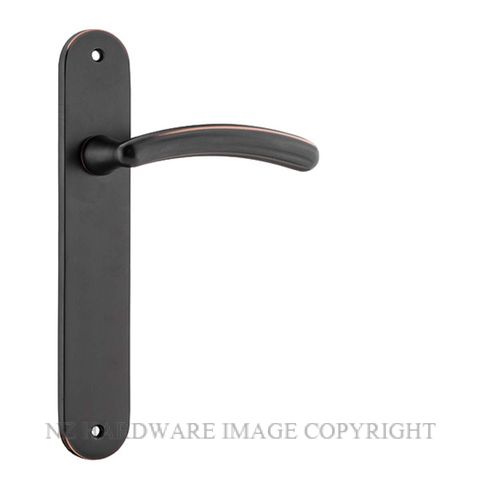 | | |
| --- | --- |
| | Supplied With Timber Fixings |
PRODUCT DESCRIPTION
TRADCO 11234 SIENA OVAL PLATE LEVER HANDLES
Plate Height - 230mm
Plate Width - 40mm
Projection - 52mm
Finish - Antique Copper
Available Finishes - Aged Copper - Antique Brass - Antique Copper - Chrome Plate - Matt Black - Polished Brass - Polished Nickel - Rumbled Nickel - Satin Chrome - Satin Nickel
These Tradco handles are Manufactured of Brass
The locksets can be supplied keyed alike at no extra cost please specify when ordering if you require locks to be keyed alike.
To simplify selection we have grouped items into kitsets so that you can either order just handles only or a complete lock-latch or privacy set by one click.
If you require assistance with your selection please contact us either by email or phone.
FOR RELATED PRODUCTS REFER BELOW
Code
Supplier Part Number
Image
Product Name
Unit
Function
Product Features
Finish
Door Type
Projection
Plate Width
Plate Height
Price
Quantity
TC11234
11234
TRADCO 11234 SIENA OVAL LATCH ANTIQUE COPPER

Unit:

Pair

Function:

Passage Handles

Product Features:

-

Finish:

Antique Copper

Door Type:

Timber Doors

Projection:

52mm

Plate Width:

40mm

Plate Height:

230mm

Pair
Passage Handles
-
Antique Copper
Timber Doors
52mm
40mm
230mm

$280.06 (exc GST)

TC11234E85
TRADCO 11234E85 SIENA OVAL EURO 85MM ANTIQUE COPPER

Unit:

Pair

Function:

Euro Lock Handles

Product Features:

Euro 85mm Centres

Finish:

Antique Copper

Door Type:

Timber Doors

Projection:

52mm

Plate Width:

40mm

Plate Height:

230mm

Pair
Euro Lock Handles
Euro 85mm Centres
Antique Copper
Timber Doors
52mm
40mm
230mm

$280.06 (exc GST)

TC11234LH
11234LH
TRADCO 11234LH SIENA OVAL LATCH FIXED HALF SET LH ANTIQUE COPPER

Unit:

Each

Function:

Dummy Handles Fixed

Product Features:

-

Finish:

Antique Copper

Door Type:

Timber Doors

Projection:

52mm

Plate Width:

40mm

Plate Height:

230mm

Each
Dummy Handles Fixed
-
Antique Copper
Timber Doors
52mm
40mm
230mm

$182.10 (exc GST)

TC11234P85
11234P85
TRADCO 11234P85 SIENA OVAL PRIVACY 85MM ANTIQUE COPPER

Unit:

Pair

Function:

Privacy Handles

Product Features:

Privacy 85mm Centres

Finish:

Antique Copper

Door Type:

Timber Doors

Projection:

52mm

Plate Width:

40mm

Plate Height:

230mm

Pair
Privacy Handles
Privacy 85mm Centres
Antique Copper
Timber Doors
52mm
40mm
230mm

$292.29 (exc GST)

TC11234RH
11234RH
TRADCO 11234RH SIENA OVAL LATCH FIXED HALF SET RH ANTIQUE COPPER

Unit:

Each

Function:

Dummy Handles Fixed

Product Features:

-

Finish:

Antique Copper

Door Type:

Timber Doors

Projection:

52mm

Plate Width:

40mm

Plate Height:

230mm

Each
Dummy Handles Fixed
-
Antique Copper
Timber Doors
52mm
40mm
230mm

$182.10 (exc GST)