Home

/

EZSET 200 SERIES KEY & TURN DEADBOLT
EZSET 200 SERIES KEY & TURN DEADBOLT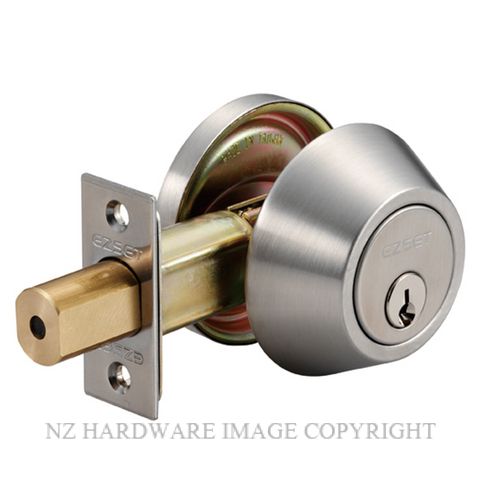 | | |
| --- | --- |
| | Supplied With Timber Fixings |
PRODUCT DESCRIPTION
EZSET 200 SERIES KEY & TURN DEADBOLTS
The Ezset 200 Range is avaiable in three finishes and comes with a 60-70mm adjustable backset making it very versatile to suit all residential applications. The Key & turn functions allows for quick locking and uplocking.

Backset - 60-70 Adjustable
Door Thickness - 35-45mm
Available in 3 Finishes - Antique Brass - Polished Brass - Satin Stainless
If you require assistance with your selection, please contact us either by email or phone.
Code
Supplier Part Number
Image
Product Name
Unit
Function
Finish
Backset
Door Thickness
Notes
Notes
Price
Quantity
EZ200BALABBP
EZ200BALABBP
EZSET EZ200BALABBP SINGLE CYLINDER DEADBOLT LOCK ANTIQUE BRASS

Unit:

Each

Function:

Key & Turn Deadbolt

Finish:

Antique Brass

Backset:

60-70mm Adjustable

Door Thickness:

35mm-45mm

Each
Key & Turn Deadbolt
Antique Brass
60-70mm Adjustable
35mm-45mm

$37.78 (exc GST)

EZ200BALPBBP
EZ200BALPBBP
EZSET EZ200BALPBBP SINGLE CYLINDER DEADBOLT LOCK POLISHED BRASS

Unit:

Each

Function:

Key & Turn Deadbolt

Finish:

Polished Brass

Backset:

60-70mm Adjustable

Door Thickness:

35mm-45mm

Each
Key & Turn Deadbolt
Polished Brass
60-70mm Adjustable
35mm-45mm

$37.87 (exc GST)

EZ200BALSS127 KI
EZSET EZ200BALSSBP SINGLE CYLINDER DEADBOLT 127MM SATIN STAINLESS

Unit:

Kitset

Function:

Key & Turn Deadbolt

Finish:

Stainless (Satin 304)

Backset:

127mm

Door Thickness:

35mm-45mm

Kitset
Key & Turn Deadbolt
Stainless (Satin 304)
127mm
35mm-45mm

$61.32 (exc GST)

EZ200BALSSBP
EZ200BALSSBP
EZSET EZ200BALSSBP SINGLE CYLINDER DEADBOLT LOCK SATIN STAINLESS

Unit:

Each

Function:

Key & Turn Deadbolt

Finish:

Stainless (Satin 304)

Backset:

60-70mm Adjustable

Door Thickness:

35mm-45mm

Notes:

Out Of Stock Due November 2021

Each
Key & Turn Deadbolt
Stainless (Satin 304)
60-70mm Adjustable
35mm-45mm
Out Of Stock Due November 2021
Out Of Stock Due November 2021

$34.26 (exc GST)