Home

/

BRIO OPEN WHEEL 150KG SQUARE RAIL TRACK SATIN STAINLESS
BRIO OPEN WHEEL 150KG SQUARE RAIL TRACK SATIN STAINLESS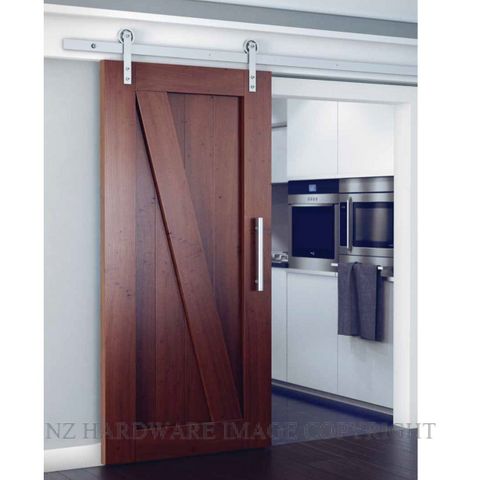 | | |
| --- | --- |
| | Supplied With Fixings |
BRIO OS150 OPEN WHEEL SQUARE RAIL DOOR TRACK 150KG

(SATIN STAINLESS)

SPECIFICATIONS

MAXIMUM PANEL WEIGHT
150kg
MINIMUM PANEL THICKNESS
35-44mm
PRODUCT DESCRIPTION
The heavy duty industrial appearance of the Brio Open Square Rail Timber will suit any contemporary interior and with capacity of 150kg panels at varing widths of up to 2m, the system is sure to impress. Exposed precision bearings and 304 stainless steel strap fixings offer a unique industrial aesthetic which is in high demand for residential and commercial applications. A multitude of guides will allow these large panels to operate with or without a floor channel and so interiors are enhanced with uninterrupted flooring. Long life cycle and quality performance are assured with this new and robust system whether used in a rustic interior or modern workplace.
Each pack includes for the Track, 2 x Hangers, Doorstops, Handle, Brackets and Fixings.
Also available in the range is Brio's Open Round Rail Glass and Timber for 100kg panels.
NO BOTTOM GUIDES HAVE BEEN ALLOWED FOR IN THESE KITSETS.
IF REQUIRED SELECT EITHER THE BI94P CHANNEL WITH THE BI106E/94 GUIDE OR THE BI814A GUIDE RAIL WITH THE BI108N/814 SPRING LOADED GUIDE
IF DOORS ARE DOUBLE BIPARTING SELECT 2 KITSETS
Finish - Satin Stainless
Available Finishes - Matt Black - Satin Stainless
If you require assistance with your selection, please contact us either by email or phone.
FOR RELATED PRODUCTS REFER BELOW
INCLUDED IN KITSET

KITSET NO
ITEM NO
QUANTITY
BI OS150 1000
BI150SR-20 TRACK 2000MM
1
BIOST150 FITTINGS PACK
1
BI OS150 1250
BI150SR-25 TRACK 2500MM
1
BIOST150 FITTINGS PACK
1
BI150-SB FIXING BRACKET
1
BI OS150 1500
BI150SR-30 TRACK 3000MM
1
BIOST150 FITTINGS PACK
1
BI150-SB FIXING BRACKET
2
BI OS150 2000
BI150SR-40 TRACK 4000MM
1
BIOST150 FITTINGS PACK
1
BI150-SB FIXING BRACKET
4