Home

/

WINDSOR BRASS 1248 PULL HANDLE UNI TURN KITSET
WINDSOR BRASS 1248 PULL HANDLE UNI TURN KITSET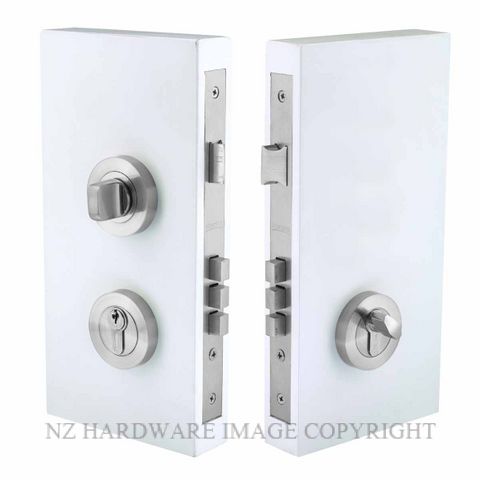 | | |
| --- | --- |
| | Supplied With Timber Fixings |
WINDSOR 1248 UNI TURN KIT
PRODUCT DESCRIPTION
The Windor WB1248 single turn 60mm backset lock kit with round escutcheons
INSIDE
This Uni turn lockset has a turn knob on the inside with which you can retract the latchbolt to open the door or throw the deadbolt to lock the door
OUTSIDE
This Uni turn lockset has a turn knob on the outside with which you can retact the latchbolt to open the door when the deadbolt has not been thrown. The key locks or unlocks the deadbolt.
This lockset can be matched with a pull handle to add a touch of style to the main entrance of your house
Available in Standard Finishes
Brushed Nickel - Graphite Nickel - Matt Black - Polished Brass - Satin Chrome - Unlacquered Brass
Available in Special Finishes 14 days lead time
Antique Bronze - Brushed Bronze - Buffed Bronze - Matt Antique Bronze - Matt Brass - Natural Bronze - Oil Rubbed Bronze - Powder Coat - Roman Brass - Satin Brass - Venetian Bronze
Door Thickness - 32mm-50mm
Backset - 60mm
If you require assistance with your selection please contact us either by email or phone.
FOR RELATED PRODUCTS REFER BELOW
Downloads
Code
Supplier Part Number
Image
Product Name
Unit
Function
Product Options
Product Features
Finish
Backset
Door Thickness
Price
Quantity
WB1248 SC
1248-SC
WINDSOR 1248 SC UNI-TURN LOCK ROUND 60MM POWDER COAT

Unit:

Set

Function:

Latching Lock Kitsets

Product Options:

Round Cylinder Escutcheons

Product Features:

Key & Turn Lock Cylinder

Finish:

Satin Chrome

Backset:

60mm

Door Thickness:

32mm-50mm

Set
Latching Lock Kitsets
Round Cylinder Escutcheons
Key & Turn Lock Cylinder
Satin Chrome
60mm
32mm-50mm

Retail: $175.85 (exc GST)

Special: $163.54 (exc GST)

WB1248 AB
1248-AB
WINDSOR 1248 AB UNI-TURN LOCK ROUND 60MM ANTIQUE BRONZE

Unit:

Set

Function:

Latching Lock Kitsets

Product Options:

Round Cylinder Escutcheons

Product Features:

Key & Turn Lock Cylinder

Finish:

Antique Bronze

Backset:

60mm

Door Thickness:

32mm-50mm

Set
Latching Lock Kitsets
Round Cylinder Escutcheons
Key & Turn Lock Cylinder
Antique Bronze
60mm
32mm-50mm

Retail: $316.13 (exc GST)

Special: $294.00 (exc GST)

WB1248 BHB
1248-BHB
WINDSOR 1248 BHB UNI-TURN LOCK ROUND 60MM BRUSHED BRONZE

Unit:

Set

Function:

Latching Lock Kitsets

Product Options:

Round Cylinder Escutcheons

Product Features:

Key & Turn Lock Cylinder

Finish:

Brushed Bronze

Backset:

60mm

Door Thickness:

32mm-50mm

Set
Latching Lock Kitsets
Round Cylinder Escutcheons
Key & Turn Lock Cylinder
Brushed Bronze
60mm
32mm-50mm

Retail: $339.18 (exc GST)

Special: $315.43 (exc GST)

WB1248 BLK
1248-BLK
WINDSOR 1248 BLK UNI-TURN LOCK ROUND 60MM MATT BLACK

Unit:

Set

Function:

Latching Lock Kitsets

Product Options:

Round Cylinder Escutcheons

Product Features:

Key & Turn Lock Cylinder

Finish:

Black

Backset:

60mm

Door Thickness:

32mm-50mm

Set
Latching Lock Kitsets
Round Cylinder Escutcheons
Key & Turn Lock Cylinder
Black
60mm
32mm-50mm

Retail: $252.89 (exc GST)

Special: $235.19 (exc GST)

WB1248 BN
1248-BN
WINDSOR 1248 BN UNI-TURN LOCK ROUND 60MM BRUSHED NICKEL

Unit:

Set

Function:

Latching Lock Kitsets

Product Options:

Round Cylinder Escutcheons

Product Features:

Key & Turn Lock Cylinder

Finish:

Brushed Nickel

Backset:

60mm

Door Thickness:

32mm-50mm

Set
Latching Lock Kitsets
Round Cylinder Escutcheons
Key & Turn Lock Cylinder
Brushed Nickel
60mm
32mm-50mm

Retail: $175.85 (exc GST)

Special: $163.54 (exc GST)

WB1248 GN
1248-GN
WINDSOR 1248 GN UNI-TURN LOCK ROUND 60MM GRAPHITE NICKEL

Unit:

Set

Function:

Latching Lock Kitsets

Product Options:

Round Cylinder Escutcheons

Product Features:

Key & Turn Lock Cylinder

Finish:

Graphite Nickel

Backset:

60mm

Door Thickness:

32mm-50mm

Set
Latching Lock Kitsets
Round Cylinder Escutcheons
Key & Turn Lock Cylinder
Graphite Nickel
60mm
32mm-50mm

Retail: $252.89 (exc GST)

Special: $235.19 (exc GST)

WB1248 MAB
1248-MAB
WINDSOR 1248 MAB UNI-TURN LOCK ROUND 60MM MATT ANTIQUE BRONZE

Unit:

Set

Function:

Latching Lock Kitsets

Product Options:

Round Cylinder Escutcheons

Product Features:

Key & Turn Lock Cylinder

Finish:

Matt Antique Bronze

Backset:

60mm

Door Thickness:

32mm-50mm

Set
Latching Lock Kitsets
Round Cylinder Escutcheons
Key & Turn Lock Cylinder
Matt Antique Bronze
60mm
32mm-50mm

Retail: $316.13 (exc GST)

Special: $294.00 (exc GST)

WB1248 MB
1248-MB
WINDSOR 1248 MB UNI-TURN LOCK ROUND 60MM NATURAL BRONZE

Unit:

Set

Function:

Latching Lock Kitsets

Product Options:

Round Cylinder Escutcheons

Product Features:

Key & Turn Lock Cylinder

Finish:

Matt Brass

Backset:

60mm

Door Thickness:

32mm-50mm

Set
Latching Lock Kitsets
Round Cylinder Escutcheons
Key & Turn Lock Cylinder
Matt Brass
60mm
32mm-50mm

Retail: $316.13 (exc GST)

Special: $294.00 (exc GST)

WB1248 NB
1248-NB
WINDSOR 1248 NB UNI-TURN LOCK ROUND 60MM NATURAL BRONZE

Unit:

Set

Function:

Latching Lock Kitsets

Product Options:

Round Cylinder Escutcheons

Product Features:

Key & Turn Lock Cylinder

Finish:

Natural Bronze

Backset:

60mm

Door Thickness:

32mm-50mm

Set
Latching Lock Kitsets
Round Cylinder Escutcheons
Key & Turn Lock Cylinder
Natural Bronze
60mm
32mm-50mm

Retail: $316.13 (exc GST)

Special: $294.00 (exc GST)

WB1248 OR
1248-OR
WINDSOR 1248 OR UNI-TURN LOCK ROUND 60MM OIL RUBBED BRONZE

Unit:

Set

Function:

Latching Lock Kitsets

Product Options:

Round Cylinder Escutcheons

Product Features:

Key & Turn Lock Cylinder

Finish:

Oil Rubbed Bronze

Backset:

60mm

Door Thickness:

32mm-50mm

Set
Latching Lock Kitsets
Round Cylinder Escutcheons
Key & Turn Lock Cylinder
Oil Rubbed Bronze
60mm
32mm-50mm

Retail: $339.18 (exc GST)

Special: $315.43 (exc GST)

WB1248 PB
1248-PB
WINDSOR 1248 PB UNI-TURN LOCK ROUND 60MM POLISHED BRASS

Unit:

Set

Function:

Latching Lock Kitsets

Product Options:

Round Cylinder Escutcheons

Product Features:

Key & Turn Lock Cylinder

Finish:

Polished Brass

Backset:

60mm

Door Thickness:

32mm-50mm

Set
Latching Lock Kitsets
Round Cylinder Escutcheons
Key & Turn Lock Cylinder
Polished Brass
60mm
32mm-50mm

Retail: $252.89 (exc GST)

Special: $235.19 (exc GST)

WB1248 PC
1248-PC
WINDSOR 1248 PC UNI-TURN LOCK ROUND 60MM POWDER COAT

Unit:

Set

Function:

Latching Lock Kitsets

Product Options:

Round Cylinder Escutcheons

Product Features:

Key & Turn Lock Cylinder

Finish:

Powder Coat

Backset:

60mm

Door Thickness:

32mm-50mm

Set
Latching Lock Kitsets
Round Cylinder Escutcheons
Key & Turn Lock Cylinder
Powder Coat
60mm
32mm-50mm

Retail: $252.89 (exc GST)

Special: $235.19 (exc GST)

WB1248 RB
1248-RB
WINDSOR 1248 RB UNI-TURN LOCK ROUND 60MM ROMAN BRASS

Unit:

Set

Function:

Latching Lock Kitsets

Product Options:

Round Cylinder Escutcheons

Product Features:

Key & Turn Lock Cylinder

Finish:

Roman Brass

Backset:

60mm

Door Thickness:

32mm-50mm

Set
Latching Lock Kitsets
Round Cylinder Escutcheons
Key & Turn Lock Cylinder
Roman Brass
60mm
32mm-50mm

Retail: $339.18 (exc GST)

Special: $315.43 (exc GST)

WB1248 SB
1248-SB
WINDSOR 1248 SB UNI-TURN LOCK ROUND 60MM SATIN BRASS

Unit:

Set

Function:

Latching Lock Kitsets

Product Options:

Round Cylinder Escutcheons

Product Features:

Key & Turn Lock Cylinder

Finish:

Satin Brass

Backset:

60mm

Door Thickness:

32mm-50mm

Set
Latching Lock Kitsets
Round Cylinder Escutcheons
Key & Turn Lock Cylinder
Satin Brass
60mm
32mm-50mm

Retail: $339.18 (exc GST)

Special: $315.43 (exc GST)

WB1248 UB
1248-UB
WINDSOR 1248 UB UNI-TURN LOCK ROUND 60MM UNLACQUERED BRASS

Unit:

Set

Function:

Latching Lock Kitsets

Product Options:

Round Cylinder Escutcheons

Product Features:

Key & Turn Lock Cylinder

Finish:

Unlacquered Brass

Backset:

60mm

Door Thickness:

32mm-50mm

Set
Latching Lock Kitsets
Round Cylinder Escutcheons
Key & Turn Lock Cylinder
Unlacquered Brass
60mm
32mm-50mm

Retail: $252.89 (exc GST)

Special: $235.19 (exc GST)