NZ HARDWARE SHOWER TRACK BLACK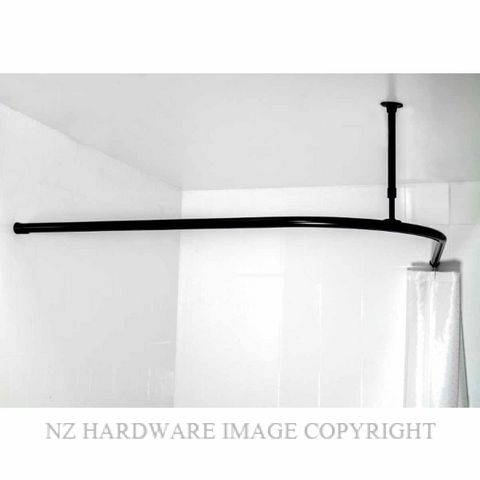 | | |
| --- | --- |
| | Supplied With Fixings |
NZ HARDWARE SHOWER TRACKS (BLACK)
The NZ Hardware shower track is manufactured in New Zealand from Aluminium and has Stainless Steel screws and hooks
The 1200x1200mm & 1800mm Shower tracks come complete with a ceiling hanger which adjusts from 460mm to 850mm long as standard.
Extended hangers available which extend from 850mm to 1150mm can be ordered as an extra.
If you require assistance with your selection, please contact us either by email or phone.
Finish - Black
Available Finishes - Black - Silver - White
FOR RELATED PRODUCTS REFER BOTTOM OF PAGE
| | | | |
| --- | --- | --- | --- |
| ITEM | DESCRIPTION | LENGTH | FINISH |
| NZHTRK900B | SHOWER TRACK | 900mm | BLACK |
| NZHTRK1200B | SHOWER TRACK | 1200mm | BLACK |
| NZHTRK1800B | SHOWER TRACK | 1800mm | BLACK |
| NZHTRK1200X1200B | SHOWER TRACK | 1200x1200mm | BLACK |
| NZHTRK-EL HAN B | EXTENDED CEILING HANGER | 850-1150mm | BLACK |
Code
Supplier Part Number
Image
Product Name
Unit
Finish
Overall Length
Notes
Returns Policy
Notes
Privacy Policy
Price
Quantity
NZHTRK1200X1200B
NZH SHOWER TRACK 1200X1200MM BLACK

Unit:

Set

Finish:

Black

Overall Length:

1200x1200mm

Notes:

Delivery 1 Week

Returns Policy:

20 Percent Surcharge

Set
Black
1200x1200mm
Delivery 1 Week
20 Percent Surcharge
Delivery 1 Week
20 Percent Surcharge

$165.84 (exc GST)

NZHTRK900B
NZH SHOWER TRACK 900MM BLACK

Unit:

Set

Finish:

Black

Overall Length:

900mm

Notes:

Delivery 1 Week

Returns Policy:

20 Percent Surcharge

Set
Black
900mm
Delivery 1 Week
20 Percent Surcharge
Delivery 1 Week
20 Percent Surcharge

$66.74 (exc GST)

NZHTRK1200B
NZH SHOWER TRACK 1200MM BLACK

Unit:

Set

Finish:

Black

Overall Length:

1200mm

Notes:

Delivery 1 Week

Returns Policy:

20 Percent Surcharge

Set
Black
1200mm
Delivery 1 Week
20 Percent Surcharge
Delivery 1 Week
20 Percent Surcharge

$77.19 (exc GST)

NZHTRK1800B
NZH SHOWER TRACK 1800MM BLACK

Unit:

Set

Finish:

Black

Overall Length:

1800mm

Notes:

Delivery 1 Week

Returns Policy:

20 Percent Surcharge

Set
Black
1800mm
Delivery 1 Week
20 Percent Surcharge
Delivery 1 Week
20 Percent Surcharge

$138.45 (exc GST)

NZHTRK-EL HAN B
NZH SHOWER TRACK HANGER 850-1150MM EXTENDED BLACK

Unit:

Each

Finish:

Black

Overall Length:

850x1150mm

Notes:

Delivery 1 Week

Returns Policy:

20 Percent Surcharge

Each
Black
850x1150mm
Delivery 1 Week
20 Percent Surcharge
Delivery 1 Week
20 Percent Surcharge

$76.70 (exc GST)