Home

/

BRIO QUICK RUN 120 ZERO CLEARANCE F TRACK
BRIO QUICK RUN 120 ZERO CLEARANCE F TRACK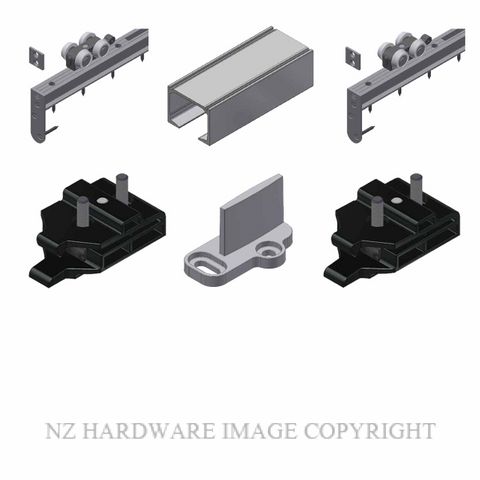 BRIO QUICK RUN 120 QR120Z F TRACK ZERO CLEARANCE DOOR TRACK
Widely used in internal residential and commercial applications.
To accommodate different building designs, panels can slide to one or both sides.
For ease of operation it is recommended that the panel width should not exceed 75% of panel height.
Timber panels for interior use can be of flush construction or glazed.
Timber panels for industrial applications should be framed, ledged and braced. Metal panels should be constructed of box section, channel or angle framing, well braced and clad with flat or corrugated sheets.
Standard Sets and Packs
Sets comprise of top track, hangers, doors stops, nylon guides, timber
screws and instructions.
Maximum Panel Height - 3000mm
Maximum Panel Weight - 120kg
Minimum Panel Thickness - 32mm
Maximum Panel Width - 950mm

ITEM NUMBER

INCLUDED IN KITSET

BIQR120Z C20F 1
Quick Run 120F 2m kit set with zero clearance door hangers and clip stops
Comprises 2m 120F track, two QRZC door hangers, two clip stops, one saw cut guide
BIQR120Z C30F 1
Quick Run 120F 3m kit set with zero clearance door hangers and clip stops
Comprises 3m 120F track, two QRZC door hangers, two clip stops, one saw cut guide
BIQR120Z S20F 1
Quick Run 120F 2m kit set with zero clearance door hangers and clip stops
Comprises 2m 120F track, two QRZC door hangers, two soft close units, one saw cut guide
BIQR120Z S30F 1
Quick Run 120F 2m kit set with zero clearance door hangers and clip stops
Comprises 3m 120F track, two QRZC door hangers, two soft close units, one saw cut guide
Code
Supplier Part Number
Image
Product Name
Unit
Overall Length
Price
Quantity
BIQR120Z C20F 1
QR120Z-C20F/1
BRIO QR120Z-C20F/1 QUICK RUN 120 ZERO CLEARANCE KIT 2MTR CLIP STOP

Unit:

Set

Overall Length:

2000mm

Set
2000mm

$330.41 (exc GST)

BIQR120Z C30F 1
QR120Z-C30F/1
BRIO QR120Z-C30F/1 QUICK RUN 120 ZERO CLEARANCE KIT 3MTR CLIP STOP

Unit:

Set

Overall Length:

3000mm

Set
3000mm

$348.98 (exc GST)

BIQR120Z S20F 1
QR120Z-S20F/1
BRIO QR120Z-S20F/1 QUICK RUN 120 ZERO CLEARANCE KIT 2MTR SOFT CLOSE

Unit:

Set

Overall Length:

2000mm

Set
2000mm

$519.75 (exc GST)

BIQR120Z S30F 1
QR120Z-S30F/1
BRIO QR120Z-S30F/1 QUICK RUN 120 ZERO CLEARANCE KIT 3MTR SOFT CLOSE

Unit:

Set

Overall Length:

3000mm

Set
3000mm

$538.31 (exc GST)