Home

/

RAVEN RP10 FRAME SEALS
RAVEN RP10 FRAME SEALS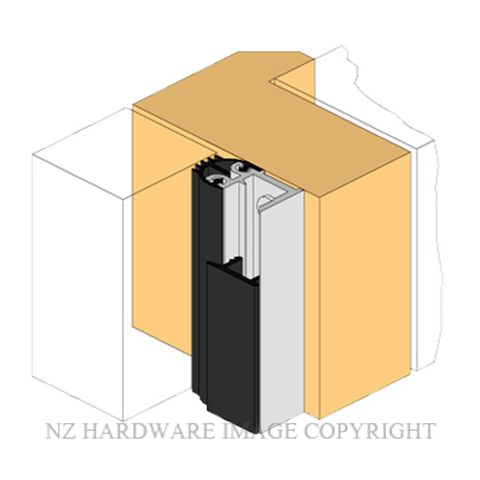 Ambient (cold) Smoke
Noise - Acoustic
Light Proof
Energy,Draught and Dust
Weather Proof
Insects and Vermin
RAVEN RP10 DOOR SEALS
A neat, anodised aluminium door stop frame seal which has proven to be an effective acoustic seal. RP10 is quick and easy to install on plain or rebated door frames. Adjustable by large concealed fixing slots for a precision fit, RP10 has a tamper resistant, rigid PVC cover strip (Self Extinguishing).

The superior multi-fin sealing prevents the leakage of noise and energy through air movement around the edges of a door. The minimum deflection design of the five sealing fins creates maximum efficiency. The RP10 can be mitred or butt jointed to give an integrated aesthetic appearance.
Superior multi-finned acoustic gasket
Tamper resistant, rigid cover strip for fixings
Sturdy anodised aluminium carrier
Mitre or Butt joint fitment
You can purchase this in a set which consists of 2 x 2.1m and 1 x 1m lengths
If you require assistance with your selection, please contact us either by email or phone.
FOR RELATED PRODUCTS REFER BELOW
| | |
| --- | --- |
| ITEM NO | DESCRIPTION |
| RP10 1000 CA | 1000mm Door Seal |
| RP10 1500 CA | 1500mm Door Seal |
| RP10 2250 CA | 2250mm Door Seal |
| RP10 3000 CA | 3000mm Door Seal |
| RP10 SGL SET CA | Single door set includes 2x2100mm & 1x1000mm Door Seals |
Code
Supplier Part Number
Image
Product Name
Unit
Application
Function
Finish
Overall Length
Mounting
Returns Policy
Privacy Policy
Price
Quantity
RP10 1000 CA
A10C1000
RAVEN RP10 FRAME SEAL 1000MM CLEAR ANODISED

Unit:

Each

Application:

Acoustic,Cold Smoke,Energy Draughts And Dust,Light,Weather,Insects And Vermin

Function:

Door Frame Or Perimeter Seals

Finish:

Clear Anodised

Overall Length:

1000mm

Mounting:

Screw Fix

Returns Policy:

Non Returnable Item

Each
Acoustic,Cold Smoke,Energy Draughts And Dust,Light,Weather,Insects And Vermin
Door Frame Or Perimeter Seals
Clear Anodised
1000mm
Screw Fix
Non Returnable Item
Non Returnable Item

$31.30 (exc GST)

RP10 1500 CA
A10C1500
RAVEN RP10 FRAME SEAL 1500MM CLEAR ANODISED

Unit:

Each

Application:

Acoustic,Cold Smoke,Energy Draughts And Dust,Light,Weather,Insects And Vermin

Function:

Door Frame Or Perimeter Seals

Finish:

Clear Anodised

Overall Length:

1500mm

Mounting:

Screw Fix

Returns Policy:

Non Returnable Item

Each
Acoustic,Cold Smoke,Energy Draughts And Dust,Light,Weather,Insects And Vermin
Door Frame Or Perimeter Seals
Clear Anodised
1500mm
Screw Fix
Non Returnable Item
Non Returnable Item

$46.96 (exc GST)

RP10 2250 CA
A10C2250
RAVEN RP10 FRAME SEAL 2250MM CLEAR ANODISED

Unit:

Each

Application:

Acoustic,Cold Smoke,Energy Draughts And Dust,Light,Weather,Insects And Vermin

Function:

Door Frame Or Perimeter Seals

Finish:

Clear Anodised

Overall Length:

2250mm

Mounting:

Screw Fix

Returns Policy:

Non Returnable Item

Each
Acoustic,Cold Smoke,Energy Draughts And Dust,Light,Weather,Insects And Vermin
Door Frame Or Perimeter Seals
Clear Anodised
2250mm
Screw Fix
Non Returnable Item
Non Returnable Item

$70.29 (exc GST)

RP10 3000 CA
A10C3000
RAVEN RP10 FRAME SEAL 3000MM CLEAR ANODISED

Unit:

Each

Application:

Acoustic,Cold Smoke,Energy Draughts And Dust,Light,Weather,Insects And Vermin

Function:

Door Frame Or Perimeter Seals

Finish:

Clear Anodised

Overall Length:

3000mm

Mounting:

Screw Fix

Returns Policy:

Non Returnable Item

Each
Acoustic,Cold Smoke,Energy Draughts And Dust,Light,Weather,Insects And Vermin
Door Frame Or Perimeter Seals
Clear Anodised
3000mm
Screw Fix
Non Returnable Item
Non Returnable Item

$93.64 (exc GST)

RP10 SGL SET CA
A10CS
RAVEN RP10 FRAME SEAL STD SGLE DOOR SET 2X2.1M 1X1M CLEAR ANODISED

Unit:

Each

Application:

Acoustic,Cold Smoke,Energy Draughts And Dust,Light,Weather,Insects And Vermin

Function:

Door Frame Or Perimeter Seals

Finish:

Clear Anodised

Overall Length:

-

Mounting:

Screw Fix

Returns Policy:

Non Returnable Item

Each
Acoustic,Cold Smoke,Energy Draughts And Dust,Light,Weather,Insects And Vermin
Door Frame Or Perimeter Seals
Clear Anodised
-
Screw Fix
Non Returnable Item
Non Returnable Item

$158.55 (exc GST)