Home

/

BRIO SINGLE RUN 180KG
BRIO SINGLE RUN 180KG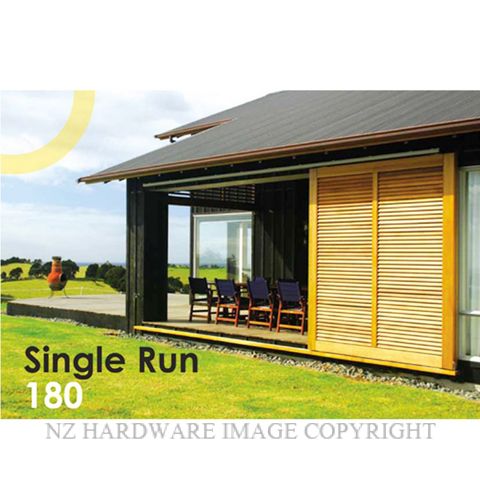 BRIO SINGLE RUN 180KG TOP HUNG SLIDING DOOR TRACK
WIDELY USED IN LIGHTER COMMERCIAL AND INDUSTRIAL APPLICATIONS.
TO COVER ANY WIDTH OF OPENING, ANY NUMBER OF DOORS CAN BE USED.
TO ACCOMMODATE DIFFERENT BUILDING DESIGNS, DOORS CAN SLIDE TO ONE OR BOTH SIDES.
HINGED DOOR FOR EASY ACCESS MAY BE INCORPORATED INTO A SLIDING DOOR.
WHERE DOORS ARE FITTED EXTERNALLY, A CANOPY IS RECOMMENDED.
| | |
| --- | --- |
| MAX PANEL HEIGHT | 3500mm |
| MAX PANEL WEIGHT | 180kg |
| MINIMUM PANEL THICKNESS | 35-48mm |
THESE KITS ALLOW FOR THE PLATE FITTING HANGER. ALL COMPONENTS CAN BE ORDERED SEPERATELY.
PLEASE NOTE WE HAVE ALLOWED FOR THE TOP TRACKS TO BE SCREW FIXED WE HAVE NOT ALLOWED FOR ANY TRACK BRACKETS.
BI SR180 950 THIS KITSET IS FOR DOORS UP TO 950MM ITEMS INCLUDED IN KITSET

ITEM
PART #
QUANTITY
BRIO 2000MM TOP TRACK
BI180-20
1
BRIO HANGER
BI57GN
2
BRIO TRACK STOP
BI180DS
2
BRIO DOOR GUIDE
BI106E-94
1
BRIO 2000MM BOTTOM CHANNEL
BI94PPA-A20
1
BI SR180 1450 THIS KITSET IS FOR DOORS 950-1450MM ITEMS INCLUDED IN KITSET

ITEM
PART #
QUANTITY
BRIO 3000MM TOP TRACK
BI180-30
1
BRIO HANGER
BI57GN
2
BRIO DOOR STOP
BI180DS
2
BRIO DOOR GUIDE
BI106E-94
1
BRIO 2000MM BOTTOM CHANNEL
BI94PPA-A20
1
BI SR180 1950 THIS KITSET IS FOR DOORS 1450-1950MM ITEMS INCLUDED IN KITSET

ITEM
PART #
QUANTITY
BRIO 4000MM TOP TRACK
BI180-40
1
BRIO HANGER
BI57GN
2
BRIO DOOR STOP
BI180DS
2
BRIO DOOR GUIDE
BI106E-94
1
BRIO 2000MM BOTTOM CHANNEL
BI94PPA-20
1
BI SR180 2950 THIS KITSET IS FOR DOORS 1950-2950MM ITEMS INCLUDED IN KITSET

ITEM
PART #
QUANTITY
BRIO 6000MM TOP TRACK
BI180-60
1
BRIO HANGER
BI57GN
2
BRIO DOOR STOP
BI180DS
2
BRIO DOOR GUIDE
BI106E-94
1
BRIO 3000MM BOTTOM CHANNEL
BI94PPA-30
1
Downloads
Code
Supplier Part Number
Image
Product Name
Unit
Application
Function
Door Type
Height
Door Thickness
Price
Quantity
BI SR180 1450
BRIO SINGLE RUN 120KG TO 180KG - 950 TO 1450MM DOOR WIDTH KIT

Unit:

Kitset

Application:

Commercial Use

Function:

Building Exterior

Door Type:

Timber Exterior,Aluminium Exterior

Height:

3500mm

Door Thickness:

35-48mm

Kitset
Commercial Use
Building Exterior
Timber Exterior,Aluminium Exterior
3500mm
35-48mm

$628.91 (exc GST)

BI SR180 1950
BRIO SINGLE RUN 120KG TO 180KG - 1450 TO 1950MM DOOR WIDTH KIT

Unit:

Kitset

Application:

Commercial Use

Function:

Building Exterior

Door Type:

Timber Exterior,Aluminium Exterior

Height:

3500mm

Door Thickness:

35-48mm

Kitset
Commercial Use
Building Exterior
Timber Exterior,Aluminium Exterior
3500mm
35-48mm

$670.49 (exc GST)

BI SR180 2950
BRIO SINGLE RUN 120KG TO 180KG - 1950 TO 2950MM DOOR WIDTH KIT

Unit:

Kitset

Application:

Commercial Use

Function:

Building Exterior

Door Type:

Timber Exterior,Aluminium Exterior

Height:

3500mm

Door Thickness:

35-48mm

Kitset
Commercial Use
Building Exterior
Timber Exterior,Aluminium Exterior
3500mm
35-48mm

$778.52 (exc GST)

BI SR180 950
BRIO SINGLE RUN 120KG TO 180KG - UP TO 950MM DOOR WIDTH KIT

Unit:

Kitset

Application:

Commercial Use

Function:

Building Exterior

Door Type:

Timber Exterior,Aluminium Exterior

Height:

3500mm

Door Thickness:

35-48mm

Kitset
Commercial Use
Building Exterior
Timber Exterior,Aluminium Exterior
3500mm
35-48mm

$584.36 (exc GST)