Home

/

BRIO 924 INTERLOCKER SEAL
BRIO 924 INTERLOCKER SEAL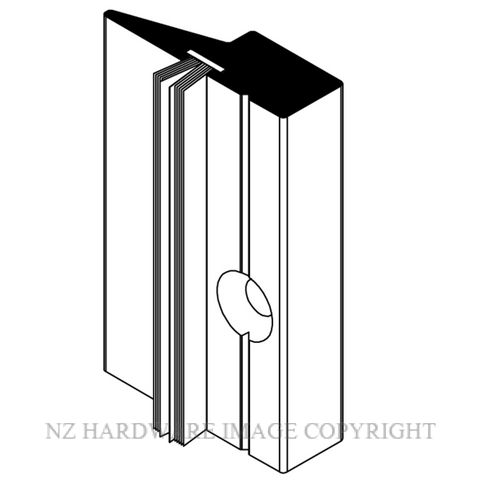 BRIO BI924 INTERLOCKER SEAL
Timberoll comes complete with a unique interlocking device that serves multiple purposes.
The 924 Interlocker and fin seal provides a tight weather seal solution between the sliding and fixed panel.
For multiple panel applications the 924 Interlocker acts to collect and close panels providing weather sealing between each panel.
The interlocker also provides a level of security, once engaged the panels collected are unable to move away from their intended line of operation.
Finish - Black - Clear Anodised
If you require assistance with your selection please contact us either by email or phone.
Code
Supplier Part Number
Image
Product Name
Unit
Product Options
Finish
Overall Length
Price
Quantity
BI924-CA24
SFH924-CA24
BRIO 924-CA24 INTERLOCKER CLEAR ANOD 2 PACK 2.4M CLEAR ANODISED

Unit:

2Pk

Product Options:

Two Pack Of 2400mm Seals

Finish:

Clear Anodised

Overall Length:

2400mm

2Pk
Two Pack Of 2400mm Seals
Clear Anodised
2400mm

$173.00 (exc GST)

BI924-CA48
SFH924-CA48
BRIO 924-CA48 INTERLOCKER CLEAR ANOD 4.8M CLEAR ANODISED

Unit:

Each

Product Options:

Single 4800mm Seal

Finish:

Clear Anodised

Overall Length:

4800mm

Each
Single 4800mm Seal
Clear Anodised
4800mm

$182.66 (exc GST)

BI924-BK24
SFH924-BK24
BRIO BI924-BK24 INTERLOCKER BLACK ANO 2 PACK 2.4M

Unit:

Each

Product Options:

Single 2400mm Seal

Finish:

Black

Overall Length:

2400mm

Each
Single 2400mm Seal
Black
2400mm

$211.61 (exc GST)

BI924-BK48
SFH924-BK48
BRIO BI924-BK48 924 INTERLOCKER - BLACK ANODISED 4.8M

Unit:

Each

Product Options:

Single 4800mm Seal

Finish:

Black

Overall Length:

4800mm

Each
Single 4800mm Seal
Black
4800mm

$220.52 (exc GST)