Home

/

HINGES

/

HFH 4150 104 DOUBLE ACTION HINGE PAIR 100MM SATIN CHROME
HFH 4150 104 DOUBLE ACTION HINGE PAIR 100MM SATIN CHROME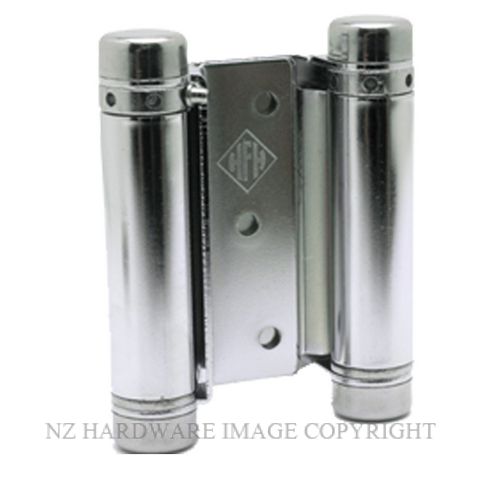 | | | | |
| --- | --- | --- | --- |
| HINGE SIZE | DOOR THICKNESS | LOAD BEARING | MAXIMUM DOOR SIZE |
| 100mm | Up to 35mm | 20kg per pair | 2040 x 820mm |
PRODUCT INFORMATION
Sometimes it is advisable to put three hinges on the door if there is a concern about the weight or excessive usage of the door. If that is the case, it is recommended that two hinges should be fitted closer to the top of the door and one in the normal bottom position. This seems to be a tried, tested and successful method of installation. However, remember that the load bearing as shown in the table below needs to be adhered to in order for the product to work as it should.
The hinges carry a warranty against product defects only. This does not include incorrect usage, tensioning or installation. It is highly recommended that the instructions are read in full before any installation is attempted. No consideration will be given concerning warranty if the hinges show any sign of incorrect usage, tensioning or installation.
The top hinge should always be placed higher than you would normally fit a standard butt hinge. Its fine to locate the bottom hinge where a butt hinge would generally sit.
Code
Supplier Part Number
Image
Product Name
Unit
Application
Function
Product Options
Finish
Door Type
Width
Height
Returns Policy
Privacy Policy
Price
Quantity
LK4150 104
4150-104
HFH 4150 104 DOUBLE ACTION HINGE PAIR 100MM SATIN CHROME

Unit:

Pair

Application:

Internal Doors

Function:

Bommer-Spring Hinges

Product Options:

Base Metal Steel

Finish:

Satin Chrome

Door Type:

Timber Doors

Width:

130mm

Height:

100mm

Returns Policy:

20 Percent Surcharge

Pair
Internal Doors
Bommer-Spring Hinges
Base Metal Steel
Satin Chrome
Timber Doors
130mm
100mm
20 Percent Surcharge
20 Percent Surcharge

$203.71 (exc GST)